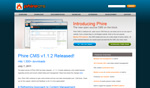 Download
So you're interested in taking it for a spin?
We're glad that to hear it. Just click the download button below to get your own copy of the current stable version of Phire CMS. Installation is a breeze, but should you get hung up on anything, please see our installation docs for assistance.
A few small upgrades and tweaks have been made for the current v1.1.2, released on July 7, 2011 (updated on October 16, 2012.) You can either download and install a fresh copy from the link below, or, if you have a version installed already, you can follow the instructions to update the version via FTP once you log into your copy of the system. A copy of the change log for the recent v1.1.2 release is located here.
Current Stable Release 1.1.2
Download Phire (.zip - 1.2MB)
(Download tar.gz - 810KB)